Marycrest Manor is a skilled nursing facility sponsored by the Carmelite Sisters of the Most Sacred Heart of Los Angeles since 2002. In a religious and family atmosphere Marycrest provides skilled nursing and rehabilitative care for the elder members of our families. Surrounded by spacious grounds and lovely gardens, Marycrest's home-like campus overlooks a magnificent panoramic view. Our precious and loved elders receive the best of skilled nursing care in this serene and tranquil setting.
The American Health Care Association & National Center for Assisted Living Quality Initiative Recognition Program recognizes nursing center members
that achieve Quality Initiate goals.
Marycrest Manor was recognized as a Tier 3 Achiever for 2020, achieving goals in the following:
Low Hospitalizations: Safely reduce long-stay and short-stay hospitalizations by at least 10% since Q1 2017, or maintain a rate of 10% or less.
Low Use of Antipsychotics: Safely reduce the off-label use of antipsychotics by at least 10% since Q1 2017, or maintain a rate of 8% or less among long-stay residents and 1% or less among short-stay patients.
High Functional Outcomes: Improve short-stay functional improvement or long-stay worsening mobility by 15% – or maintain greater than 75% on short-stay functional improvement or maintain less than 12% on long-stay worsening mobility.
For more information, visit https://www.ahcancal.org/quality_improvement/qualityinitiative/Pages/RecognitionProgram.aspx
Marycrest Manor is doing everything possible to ensure our beloved residents stay safe. Leadership is meeting daily to discuss the updated recommendations from the California Department of Public Health (CDPH), the Center for Disease Control (CDC) and Centers for Medicare & Medicaid Services (CMS). We will continue to provide updates and stay in contact with resident families on a regular basis.
In accordance with recommendations from the CMS, Marycrest Manor is currently restricting visitation of all visitors and non-essential health care personnel until further notice.
Some basic precautions can help to keep you and your loved ones healthy:
• CDC recommends getting a flu vaccine.
• Avoid contact with people who are sick.
• If you are sick: stay home and self-isolate if you have flu symptoms or a fever.
• Please do not come to visit anyone in Marycrest Manor if you are sneezing, coughing or have an elevated temperature.
• Wash your hands well and often. Wash for at least 20 seconds with soap and water or use hand sanitizer with at least 60% alcohol. Teach your kids to do the same.
• Try not to touch your eyes, nose, and mouth if you haven't washed your hands.
• Clean and disinfect surfaces and objects that are high touch areas.
• Wash or sanitize your hands often!
Find out more about how we are working to keep our residents safe and healthy!
At Marycrest Manor we strive to be more than just a skilled nursing facility. Treasuring the beauty and dignity of each person, we are committed to providing compassionate and loving care, with the Heart of Christ. As a Catholic, non-profit organization, we nurture the whole person by accompanying our elders in their lives of vibrancy, purpose and fulfillment.
Patients enrolled in rehabilitation services receive nursing and therapy care, as prescribed by the resident's own physician, to rebuild their strength and also learn how to better manage their disease or condition. Rehabilitation services, including on-site occupational, speech, and physical therapists provide a bridge to recovery, helping residents receive the greatest level of independence.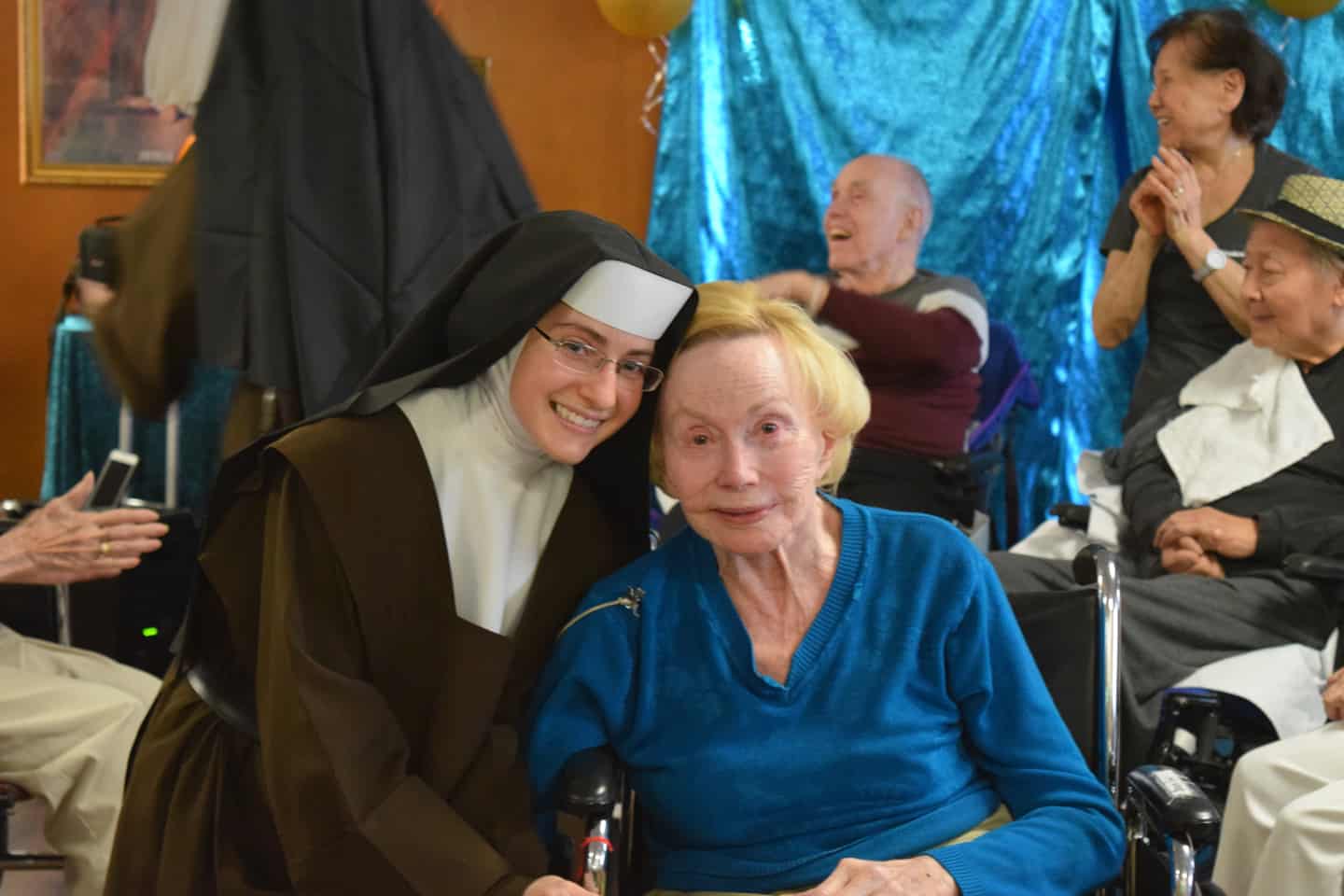 Residents at any phase of a serious illness can receive care and comfort at Marycrest Manor. An assortment of choices for care are available–including longer stays. Marycrest's entire team of caregivers is known for life-giving, joy-filled, professional services.